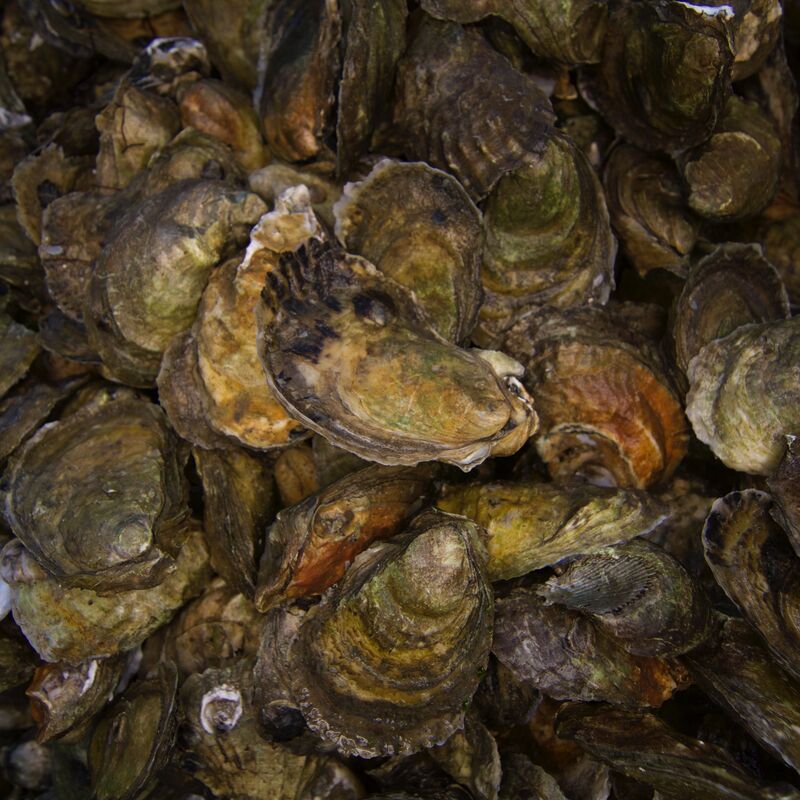 WILD Wellfleet Oysters
Naturally grown on the ocean bottom. Plump meats & thick shelled. Harvested daily.
Wellfleet Harbor has been ideal for wild oyster harvesting for centuries. Native populations harvested oysters for food long before aquacultural farming was introduced in the late 1700's. Today, it is still one of the few harbors in the world that can produce naturally occurring spat (baby oysters). The tiny spat will attach itself to a suitable habitat like a rock or old shell. As the baby oysters grow, they are shaped and formed by the natural movements of the wind and tides unique to Wellfleet Harbor. Wild oysters generally grow a bit slower than farmed oysters. This allows their shells to harden and thicken up a bit more while also allowing more time for them to grow their meat content.
Enjoy them on the half shell or add them to your favorite stuffing for this year's Thanksgiving feast – just like our ancestors did centuries ago!

INSTRUCTIONS/ STORAGE
All shellfish orders are packed to withstand an extra day of transit in anticipation of weather and service delays.
Oysters ship fresh with ice packs and soaked saltwater paper.
Upon arrival, remove packaging and place the mesh bag of oysters immediately in the fridge.
TIP! Place your oysters in an open bowl so they don't leak inside the refrigerator. Cover with a damp cloth or kitchen towel to maximize their freshness.
May be stored in the refrigerator for up to 1 week.
Do Not Freeze.
From ordering to delivery, and then to eating, this could not have gone more smoothly or been more appreciated by the recipients (and the giver), thanks!
— Ethan P. (Lafayette, CO)
This was a gift of oysters from my wife to her brother. The shipping time was excellent, as was the packaging. Her brother and sister in law gave a few to a neighbor, but consumed all of the rest in 2 nights. They said every oyster was in perfect shape; no chips or cracks!

— Robert F. (Northport, MI)
Everything! Delivery, quality and freshness of the oysters... This was a surprise birthday gift for a friend who is freakishly particular about oysters. She was thrilled! Thank you for providing a perfect gift, and making it so easy!
— Judy S. (Nashville, TN)